case study: a year in your garden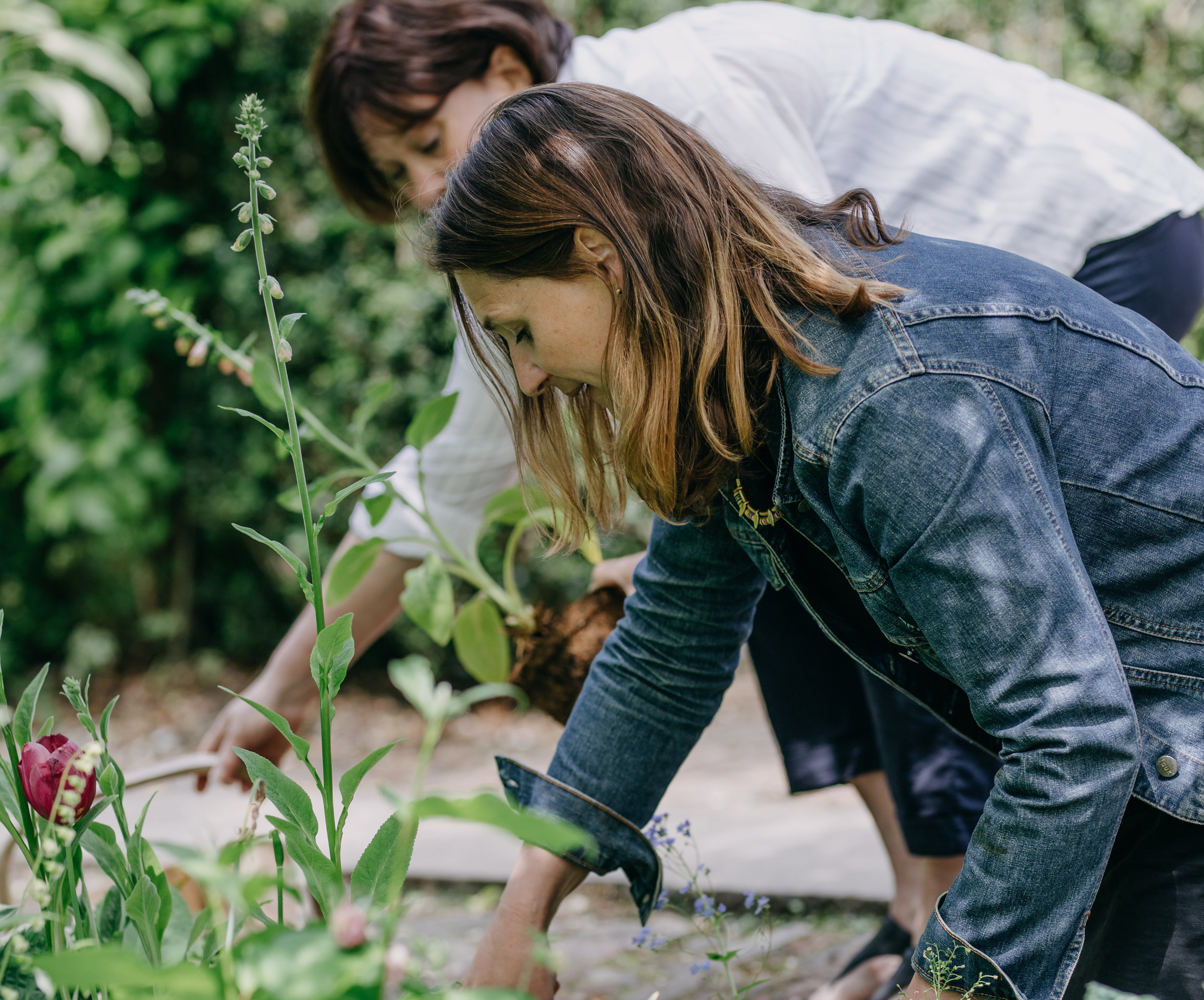 A small walled garden in Shillingford
Cynthia and Max contacted me in the autumn of 2017 after removing all the over-grown plants from their garden as they were struggling to find a style of planting and way forward with which they were both happy.
Although experienced allotment gardeners, they had never planted a whole garden before and were looking for an experienced design eye to show them what was possible, answer questions, support the process of implementation and brain-storm ideas.
relaxed and excited
Their walled garden is sunny, square and acts as the entrance to a pretty brick built house and, as is often the case, there were several structural elements we needed to sort out before planting.
So, although my clients were expecting to dive straight into the planting I actually began by creating a very rough pencil sketch of the garden and marking out the new layout on the ground in blue paint. We then created a list of jobs, and decided who would do them with heavy or skilled jobs being passed to a skilled landscaper I recommended.
It was so wonderful to see how, once it was clear what needed to happen next, Cynthia and Max relaxed and became excited. It's always good to break things down and I was able to help them do that.
shall we remove the old plum tree?
The tree in question was misshapen and producing very little fruit and, although, Max and Cynthia knew it should go, they were having trouble following through. I was clear that, in a garden of this size, such an attractive feature should be gorgeous in at least three seasons not ugly in four!
So the old tree went and we chose a Snowy Mespilus (the latin name is Amelanchier lamarkii) to replace it.
This small tree has pretty pink edged new foliage, flowers in spring, berries and then autumn colour - so much value in such a small space that Max and Cynthia were delighted as soon as it was planted.
For me, it was really a no-brainer but I find that, coming into the garden with fresh eyes, it's often much easier for me than my client to be 'ruthless' in this way.
the planting
The planting scheme I created has a mix of strong long-lasting elements that will hold the interest year round as well as lots of seasonal perennial choices to offer a regularly changing picture.
Pleased with the design, Cynthia and Max accepted it fully and asked me to supply the plants which I was happy to do as it enables me to ensure that the varieties I have carefully chosen for their particular characteristics are the ones that are supplied.
seasonal visits
I continue to visit on a seasonal basis visited on a seasonal basis to advise on general care, the addition of bulbs to extend the planting and more and am pleased to see how enthusiastic and involved with the garden both Cynthia and Max now are.
On my most recent visit our discussion was all about how best to move forward with their, recently cleared, front garden. They've definitely got the gardening bug!
creating the planting design
Once all the bones of the garden were in good order we moved onto a discussion about the planting - that was, after-all, what I'd come to do in the first place and the first thing to do was to find some common ground for Cynthia and Max. He likes a tidy garden and she likes lots of loose planting. It was a bit tricky but eventually I was able to find a way through and the process began.
The garden measures about 10 metres square, give or take, and the criteria was that the new plants should be reasonably easy to maintain, offer interest throughout the year and not be 'too messy.' I also knew that good structure was important as the house is accessed through this, otherwise, back garden and needs to hold its own in the longterm.
planting day
It was an exciting moment when the 300 or so perennials, shrubs and yew balls arrived and I popped over to help count them in.
I always notice a wonderful change in atmosphere once the plants arrive even when they are still in their pots and this time was no exception. We couldn't wait to set them out and get them settled in their new homes.
Planting took place on a sunny day in late April 2018. Another gardener colleague of mine, Sarah, came to help Max and Cynthia plant whilst laid out.
Join me on instagram @growthfully